MARK KNOPFLER
LAY DOWN YOUR HEAD AND DREAM.......
The "Sailing to Philadelphia" 2000 Promotional Tour
DSRC 006
Attention please : disc 2 rebuild on September 5th, 2001 - added more Argentina Sessions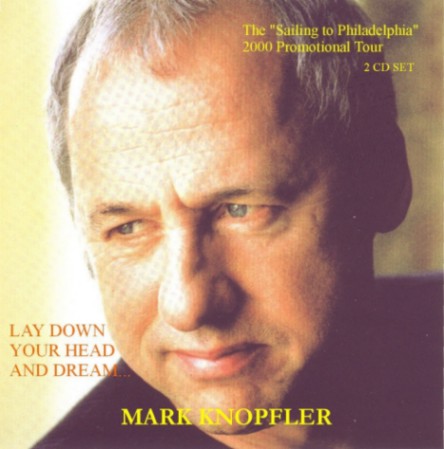 Absolutely most of what is here has been sourced from original radio and TV broadcasts, directly transferred to CDR. We have avoided, as much as possible, to get songs from MP3 files. Even though,some songs here have been taken from this format due to the impossibility of getting them on original wave files. Of the 36 songs, only 6 have been converted from MP3 high quality files.
We have gotten some songs in much better quality than the MP3 files in circulation; for example, track 14 in CD 1 is of "oficial CD" quality, much much better than the MP3 in circulation. On another hand, we have realized that there are many truly high quality MP3`s around. For example,we have attempted to get the awesome recording of "Fade to Black" from Poland in original wave format, but the MP3 file is of so good quality that we decided to include it as well.
Our policy is to do not copy songs that have been oficialy released. However, here are included the three songs that have been oficialy released on the 2nd CD single.We have thought about not including them, but later we decided to do so because the single hasn`t been released worldwide, it`s available only in some European countries.
Except for songs 9, 10 and 13 of the first CD, and the last song of CD 2, all other songs have been remastered in order to fix various problems like bass distortion, low volume, clicks,etc; all songs are now from very good to truly excelent quality.
There are included only real live performances, both vocals and instruments. We haven`t included any of the many "what it is" instrumental playback performances.
As a bonus track, we have included the Extended Version of "What it Is" that has been released only in Mexico.The track has been taken from the original CD, not from the worldwide available MP3.
CD 1
1) Baloney Again, acoustic, only Voice and Guitar, Walker show, September 6th, from TV broadcast;
2) What it is, Parkinson show, September 22nd, from TV broadcast;
3) Baloney again - Romeo & Juliet - Money for Nothing, Parkinson show, September 22nd, from TV broadcast;
4) Baloney Again, La Cosa Nostra, TV Catalunia, acoustic guitar with Guy Fletcher on eletric organ, September 25th, from TV broadcast, much better than the MP3 file that has been on wide circulation;
5) What it is, David Letterman, September 28th, from TV broadcast;
6) Baloney Again, NPA France,October 11st, from TV broadcast;
7) Baloney Again,Oui FM, France,October 11st, from TV broadcast;
8) Going Home,Oui FM, France,October 11st, from TV broadcast;
9) El Macho, from oficial single, October 13rd;
10) Baloney Again, from oficial single, October 13rd;
11) Baloney Again, Mark & Brian Show,October 18th, from broadcast;
12) Romeo & Juliet, Mark & Brian show, October 18th, from broadcast;
13) Going Home, Italy, from oficial single, probably November 1st;
14) What it is, SAT1 TV, Germany, November 2nd, from TV broadcast;
15) Baloney Again, Norway TV NRK1, November 3rd, from high quality MP3 file;
16) Baloney Again, TV 4 Sweden, November 4th, from high quality MP3 file;
17) Going Home, Musikbutikken, November 4th, from high quality MP3 file;
18) No Cambie, Canal + TV, Spain, November 8th, from high quality MP3 file;
19) Baloney Again, Canal + TV Spain, November 8th, from high quality MP3 file;
CD 2
1) Baloney Again, Rio de Janeiro, Brazil, November 19th, from radio broadcast;
2) El Macho, Rio de Janeiro, Brazil, November 19th, from radio broadcast;
3) Rudolf, Rio de Janeiro, Brazil, November 19th, from radio broadcast;
4) Fade to Black, Rio de Janeiro, Brazil, November 19th, from radio broadcast;
5) Baloney Again, Argentina, November 23rd, from radio broadcast;
6) El Macho, Argentina, November 23rd, from radio broadcast;
7) Fade to Black, Argentina, November 23rd, from radio broadcast;
8) Going Home, Argentina, November 23rd, from broadcast;
9) Baloney Again, Argentina, November, Much Music TV, unknown date, from TV broadcast
10) El Macho, Argentina, November, Much Music TV, unknown date, from TV broadcast
11) Fade to Black, Argentina, November, Much Music TV, unknown date, from TV broadcast

12) What it is, Tonight show, Jay Lenno, November 29th, from TV broadcast

13) Romeo & Juliet, Craig Kilborn show, November 29th, from high quality MP3 file

14) Baloney Again, Craig Kilborn show, November 29th, from TV broadcast

15) Fade to Black, Poland, December 7th, from TV broadcast

16) Fade to Black, Poland, December 7th, from alternate source - high quality MP3 file

BONUS TRACK :

17) What it is - Extended Version, from original Mexican single